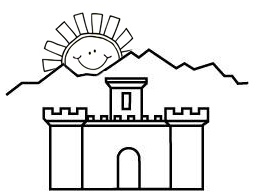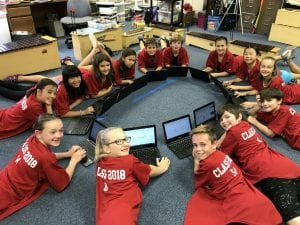 Our Castlehill Fifth Grade Website is going to be revamped in the coming weeks as we've ushered in a new fifth grade class! Our amazing students create the site with use of their Chromebooks to maintain individual webpages in their Technology Skills class with the assistance of Ms. McBride. These pages illustrate some of the things they are learning in their classroom, in Science, through community service projects and on field trips.
Each student team chooses a topic, and they co-editor their own pages. The students meet weekly to discuss what new, interesting things to include on their website in technology class, and will work throughout the year to keep the site current and interesting. The website has pages on entertainment, great books, sports, classroom projects, "fake breaking news", puzzles, short stories, and happenings around Tucson. If you want to know what's going on in fifth grade, be sure to check it out!
Is This YOUR School?
Movie Madness Club Promotes Castlehill in their Student Created Commercial
Enroll Your Child at Castlehill
Toddler - 5th Grade
Give Your Child a Solid Educational Foundation & a Lifetime Love of Learning
Castlehill Country Day School is Southern Arizona's premier private Elementary School. Specializing in academic excellence, Castlehill provides students Toddler through 5th grade with a well-rounded education that builds a foundation for both future academic efforts and a good life. Students are active in Art, Computers, Music, Spanish, Physical Development and Science to round-out our stimulating curriculum.
Castlehill has Many
SPECIAL
Features!
Castlehill offers a well-rounded curriculum featuring many "Specials'" classes such as; Spanish, Art, Science, Physical Development, Music, 3-D Printing Lab, Computer Typing and Technology Skills and Library Skills. In addition there are many after school programs available to continue building creative student minds and bodies; Crossfit Training, STEM Club, Lego Robotics, Bullet Journaling & Creative Writing, Art, Digital Media Magic and Chess!
Castlehill students are enthusiastic learners with endless opportunities for academic, physical and emotional growth!
Upcoming Events
October 12
Castlehill Parents Night Out
6 – 8pm
Contigo at La Paloma
October 19th 
Fifth Grade Catalina Island Assembly
9:15
October 26th 
Kindergarten & First Grade Assembly
9:15
Boo Bash
5 – 8pm
November 2nd 
Fourth Grade Assembly
9:15
November 6th
Dragon Dinners
5 – 8pm
featuring Ms. Good
@ Panera Bread, 4821 E Grant Rd