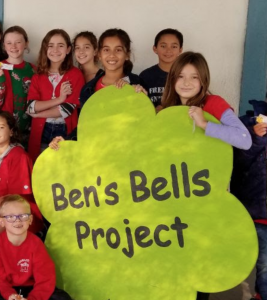 Thank you for participating in our annual shoebox gifts program; our children were able to experience the joy of giving to others as they brought their beautifully wrapped shoe boxes to the TMM Family Services truck. In December our second and fifth grade students took a field trip to Ben's Bells and worked together on a "Be Kind" project. Information coming soon regarding our next community service project!
Monthly Dragon Dinners!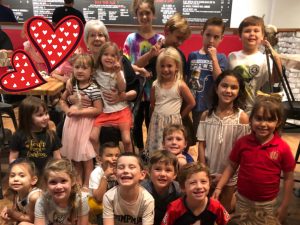 Join us the first Tuesday of each month for dinner with our Castlehill Community! Each month will feature one of our fabulous teachers. Our first Dragon Dinner was at Chick-Fil-A with Mrs. McKay (Pre-K), next was at Sauce with Mrs. Berheim (Kindergarten), Panera Bread with Ms. Good (3rd Grade), and Casa Molina featuring Mrs. Mattingly (4th Grade).
These evenings are so much fun! Our children love having dinner with their friends and getting a chance to see some of our staff outside of school. As a bonus, these locations donated a portion of the proceeds from the evening back to our school parent connection fund – so far we have raised over $400 from these events. You do not have to wait until your teacher's month to attend, everyone is welcome each month and you can extend an invitation to any family members or friends – the more the merrier! Our next Dragon Dinner is January 8th from 5-8pm at the Vero Amore restaurant located at Swan/Ft.Lowell– we hope to see you there!
Enroll Your Child at Castlehill
Toddler - 5th Grade
Give Your Child a Solid Educational Foundation & a Lifetime Love of Learning
Castlehill Country Day School is Southern Arizona's premier private Elementary School. Specializing in academic excellence, Castlehill provides students Toddler through 5th grade with a well-rounded education that builds a foundation for both future academic efforts and a good life. Students are active in Art, Computers, Music, Spanish, Physical Development and Science to round-out our stimulating curriculum.
Movie Madness Club Promotes Castlehill in their Student Created Commercial
Upcoming Events
March 12th
Spelling Bee Grades 3-5
1:00 pm in the MPR
March 18-22th
Bring a Friend To School Week
March 19th
2nd Grade Poetry Cafe
March 20th
5th Grade Toastmasters
March 21th
4th Grade Feast of Nations
March 22nd
Founder's Day Celebration
9:15am
March 25-29
Spring Break
NO SCHOOL