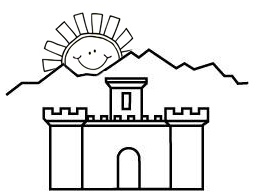 Join the Fun at Summer Camp!
Come join the fun this summer at our Castlehill Summer Camp for children ages 3-9. Camp runs weekly programs June 3 – August 2, 2019. Join us for one week, or for all! Please call Mary at (520) 795-0008 for more information.
A new adventure will await you each day! At Castlehill, our daily activities will revolve around a different theme every week. We have it all from A to Z! Arts and crafts, cooking, dance, sports, drama, science, music, water activities, and much, much more! (Summer Camp prices include snacks)
Camp is $245/WEEK  –  $215/WEEK  FOR SECOND CHILD
Camp Hours: 8:30 – 2:30
Sign-up for any 4 weeks and receive a $25 discount
Please make checks payable to Castlehill (All payments due by Friday, May 17)
Registration is non-refundable. Space is limited, please register early.
*The Camp Director is Kristy Jorgensen unless otherwise noted.
Check Out This Year's Themes!
June 3-7
June 3-7 - Pirate Adventure Camp
June 10-14
Theater Camp with Mrs. Bianco
June 17-21
Jurassic Week (Dinosaur Week)
ROOOAAAR!
June 24-28
Art Camp
Come be creative with us!
July 1-5
NO CAMP
Happy Forth of July!
July 8-12
Under the Sea
July 15-19
Mad Scientists
Science Week
July 22-26
Bugging Out
(Insect Week)
July 29-Aug 2
Safari Adventure