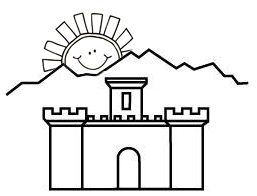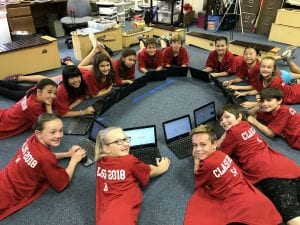 The Fifth Grade Website is up and running! Our amazing students are working in their Chromebooks to maintain individual webpages in their Technology Skills class with the assistance of Ms. McBride. These pages illustrate some of the things they are learning in their classroom, in Science, through community service projects and on field trips.
Each student has chosen a topic, and is an editor of their own page. The students meet weekly to discuss what new, interesting things to include on their website in technology class, and will work throughout the year to keep the site current and interesting. The website has pages on entertainment, great books, sports, classroom projects, "fake breaking news", puzzles, short stories, and happenings around Tucson. If you want to know what's going on in fifth grade, be sure to check it out!
Is This YOUR School?
Movie Madness Club Promotes Castlehill in their Student Created Commercial
Mrs. McKay's
Pre-Kindergarten Class Recites Their
"Kindness Pledge"
Mrs. McKay kicks off the Pre-Kindergarten school year with a kindness unit and implements The Golden Rule in her classroom. Her Pre-K students build on this the entire school year with many lessons and sweet storybooks that correlate.  In November, they started learning the "Kindness Pledge" building up to their lesson honoring Martin Luther King Jr. in February. It was so well-received they wanted to share it with our school community. Enjoy!
CASTLEHILL CARES
On Friday, September first the Fifth Grade class of Castlehill Country Day School took a very special field trip to World Care International. The Fifth Grade students asked the Castlehill Community to share specific donations needed by World Care which included personal toiletries like: shampoo, diapers, soap, and shampoo. The students also included cleaning products like mops, brooms, bleach and detergent. The Fifth Grade delivered these supplies to help the victims of Hurricane Harvey in Austin, Texas. World Care shipped the donations to Texas from their warehouse on 1925 West Gardner Lane within two days of receiving them.
From our students;
"It was exciting to get to take our things to World Care. We were so happy to see the faces of the workers when we arrived. They were very impressed with how much we collected in such a short time. We all hope that the people of Houston will be okay [and we want] people to know that Castlehill Country Day School cares!"
Thank you Fifth Grade students and a special thanks to our Castlehill Community for your generosity!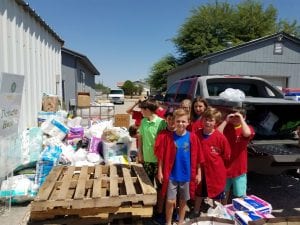 Give Your Child a Solid Educational Foundation & a Lifetime Love of Learning.
Enroll Your Child at Castlehill
Toddler - 5th Grade
Castlehill Country Day School is Southern Arizona's premier private Elementary School. Specializing in academic excellence, Castlehill provides students Toddler through 5th grade with a well-rounded education that builds a foundation for both future academic efforts and a good life. Students are active in Art, Computers, Music, Spanish, Physical Development and Science to round-out our stimulating curriculum.
Upcoming Events
February 1st
Registration Opens
to Current Students
for 2018-2019
School Year
February 9th
Color Community
&
Last Day of
SESSION 2 CLUBS
February 12-16th
MAKE-UP DAYS
for SESSION 2 CLUBS
&
SESSION 3
CLUB REGISTRATION
BEGINS
February 19th-23rd
RODEO BREAK