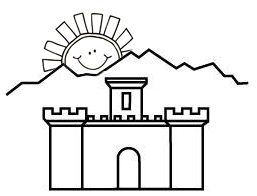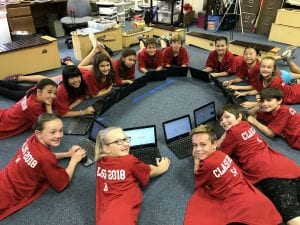 The Fifth Grade Website is up and running! Our amazing students are working in their Chromebooks to maintain individual webpages in their Technology Skills class with the assistance of Ms. McBride. These pages illustrate some of the things they are learning in their classroom, in Science, through community service projects and on field trips.
Each student has chosen a topic, and is an editor of their own page. The students meet weekly to discuss what new, interesting things to include on their website in technology class, and will work throughout the year to keep the site current and interesting. The website has pages on entertainment, great books, sports, classroom projects, "fake breaking news", puzzles, short stories, and happenings around Tucson. If you want to know what's going on in fifth grade, be sure to check it out!
Is This YOUR School?
Movie Madness Club Promotes Castlehill in their Student Created Commercial
Enroll Your Child at Castlehill
Toddler - 5th Grade
Give Your Child a Solid Educational Foundation & a Lifetime Love of Learning.
Castlehill Country Day School is Southern Arizona's premier private Elementary School. Specializing in academic excellence, Castlehill provides students Toddler through 5th grade with a well-rounded education that builds a foundation for both future academic efforts and a good life. Students are active in Art, Computers, Music, Spanish, Physical Development and Science to round-out our stimulating curriculum.
Spring Art Show &
Creative Juice Night!
Be sure to visit the MPR this Friday evening for the opening of Mrs. Valencia's Spring Art Show!
This anticipated event begins at 5:30pm and will feature artwork from our Kindergarten through Fifth Grades, as well as auction items* created by each classroom (Preschool through 5th).
In addition, Creative Juice teachers will lead a fun painting class with two paintings
to choose from. Participants will take home an original work of art on 16 x 20 canvas suitable for framing! $15 admission includes all painting supplies, pizza, and a drink!
It's important to pre-register for the Creative Juice painting and pizza portion (Deadline for registering is Wednesday, March 14th!)
*Auction items will be on display throughout the evening and the auction will end at 7:30 pm.