Check Out the 5th Grade Website!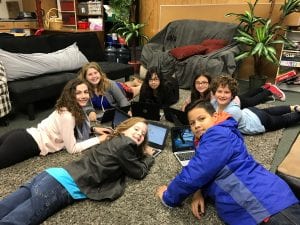 Take a look at the new fifth grade website! The students in Mrs. Bianco's class are learning how to build and maintain a website in their technology skills class with the assistance of their Chromebook laptops and Ms. McBride.
Each student has chosen a topic, and is an "editor" of their own page. The students meet to discuss what new, interesting things to include on their website in technology class, and then set out to keep the site current and interesting. The website has pages on entertainment, great books, classroom projects, puzzles, short stories,  and happenings at Castlehill and around Tucson. If you want to know what's going on in fifth grade, be sure to visit the Castlehill Fifth Grade Web!
Castlehill Art Show & Family Paint Night
It's that time of year again! Our talented art teacher, Kristina Valencia has again inspired our Kindergarten through fifth grade students in creating amazing works of art which are on display in the multi-purpose room for a limited time.
Our Annual Art Show kicked off  January 23rd with a painting night hosted by Creative Juice. Students, parents and friends registered to participate in this wonderful family activity where everyone was guided step by step in creating a 16×20 canvas painting suitable for framing! The $15 registration included pizza, drinks, canvas and all painting supplies.
There was also be a silent auction fundraiser featuring class projects from Toddlers through fifth grade. Our students were especially proud of the group projects they created under the direction of Mrs. Valencia, and they raised over twelve hundred dollars!

Show your support of Castlehill and private education in Arizona at no cost by taking advantage of the Arizona State Tuition Tax Credit. Individuals can donate up to $1,087 and couples filing jointly can contribute up to $2,173 to help Castlehill continue its legacy of private education in Arizona. Your contribution may be deducted, dollar-for-dollar, when you file your Arizona tax return. Visit our "Scholarship" link for more information, or visit the Arizona Tuition Connection to donate, and select Castlehill as your school. Thank you!
Give Your Child a Solid Educational Foundation and a Lifetime Love of Learning.
Enroll Your Child at Castlehill
Toddler - 5th Grade
Castlehill Country Day School is Southern Arizona's premier private Elementary School. Specializing in academic excellence, Castlehill provides students Toddler through 5th grade with a well-rounded education that builds a foundation for both future academic efforts and a good life. Students are active in Art, Computers, Music, Spanish, Physical Development and Science to round-out our stimulating curriculum.
Mrs. McKay's
Pre-Kindergarten Class Recites Their
"Kindness Pledge"
Mrs. McKay kicks off the Pre-Kindergarten school year with a kindness unit and implements The Golden Rule in her classroom. Her Pre-K students build on this the entire school year with many lessons and sweet storybooks that correlate.  In November, they started learning the "Kindness Pledge" building up to their lesson honoring Martin Luther King Jr. in February. It was so well-received they wanted to share it with our school community. Enjoy!
Humanities Week
For Humanities Week our students grades third through fifth were divided into the three ancient civilizations of Rome, Egypt, and China. The students were immersed in the history, customs, culture, social structures and even the foods of their region. Each group created a permanent clay art installation that will beautify our campus, they learned songs that highlighted the history and customs of their group and they presented it all in full custom dress at the school assembly.
Every year the students look forward to this special week filled with mummy wrapping, monument building, and the creation of huge Roman figures, just to name a few of the exciting projects. Humanities Week has been a great opportunity for our students to understand the importance of these amazing ancient civilizations and their impact on our world.
Upcoming Events
February 20-24
NO SCHOOL – Rodeo Break
February 27-  March 3
MAKE-UP WEEK for Session 2 Clubs
March 3rd
Awards Assembly
March 3rd
Math Bee (K-5)
March 6th
Session 3 Clubs begin