Enroll Your Child at Castlehill
Toddler - 5th Grade
Give Your Child a Solid Educational Foundation and a Lifetime Love of Learning.
Castlehill Country Day School is Southern Arizona's premier private Elementary School. Specializing in academic excellence, Castlehill provides students Toddler through 5th grade with a well-rounded education that builds a foundation for both future academic efforts and a good life. Students are active in Art, Computers, Music, Spanish, Physical Development and Science to round-out our stimulating curriculum.
Castlehill Students & Families Give to the Community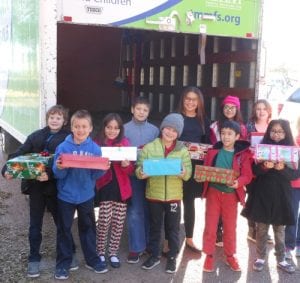 As part of a long-standing tradition at Castlehill we have partnered with Tucson Metropolitan Ministries in a gift-giving program for less fortunate children. TMM is a non-denominational organization that distributes shoebox gifts to children in Tucson who might not otherwise ever receive such kindness. Our students donate mittens, socks, crayons, books, hair accessories, stickers and more in a beautifully wrapped shoebox with a hand written note.
We are grateful to all of our families that participate in this important community service project.  Our Castlehill family focuses on caring, sharing and giving throughout the year, and through our service we are reminded how fortunate our Castlehill community is.
Humanities Week
For Humanities Week our students grades third through fifth were divided into the three ancient civilizations of Rome, Egypt, and China. The students were immersed in the history, customs, culture, social structures and even the foods of their region. Each group created a permanent clay art installation that will beautify our campus, they learned songs that highlighted the history and customs of their group and they presented it all in full custom dress at the school assembly.
Every year the students look forward to this special week filled with mummy wrapping, monument building, and the creation of huge Roman figures, just to name a few of the exciting projects. Humanities Week has been a great opportunity for our students to understand the importance of these amazing ancient civilizations and their impact on our world.

Show your support of Castlehill and private education in Arizona at no cost by taking advantage of the Arizona State Tuition Tax Credit. Individuals can donate up to $1,087 and couples filing jointly can contribute up to $2,173 to help Castlehill continue its legacy of private education in Arizona. Your contribution may be deducted, dollar-for-dollar, when you file your Arizona tax return. Visit our "Scholarship" link for more information, or visit the Arizona Tuition Connection to donate, and select Castlehill as your school. Thank you!
Upcoming Events
January 3rd
School Resumes
January 9-13
Humanities Week (Grades 3-5)
January 16th
NO SCHOOL – Civil Rights Day
January 23rd
Art Show Opening – Creative Juice Event – Silent Auction
6-8 pm in the MPR
January 23rd-31st
Art Show in the MPR